In the cutthroat world of commercial and industrial construction , talent is more than an asset—it's a necessity. The right team can make or break a project, and for a company with a workforce of over 4,500 employees, finding the right fit can be a daunting task. This was the challenge faced by a prominent U.S. construction company when it sought to bolster its talent acquisition strategy.
Enter IQTalent, a trusted partner in sourcing high-quality passive candidates . Our extensive experience and expertise in talent sourcing made us the ideal partner to help transform their talent acquisition process.
Are you a recruiter in the construction or manufacturing industry? We need your voice! Take our survey now.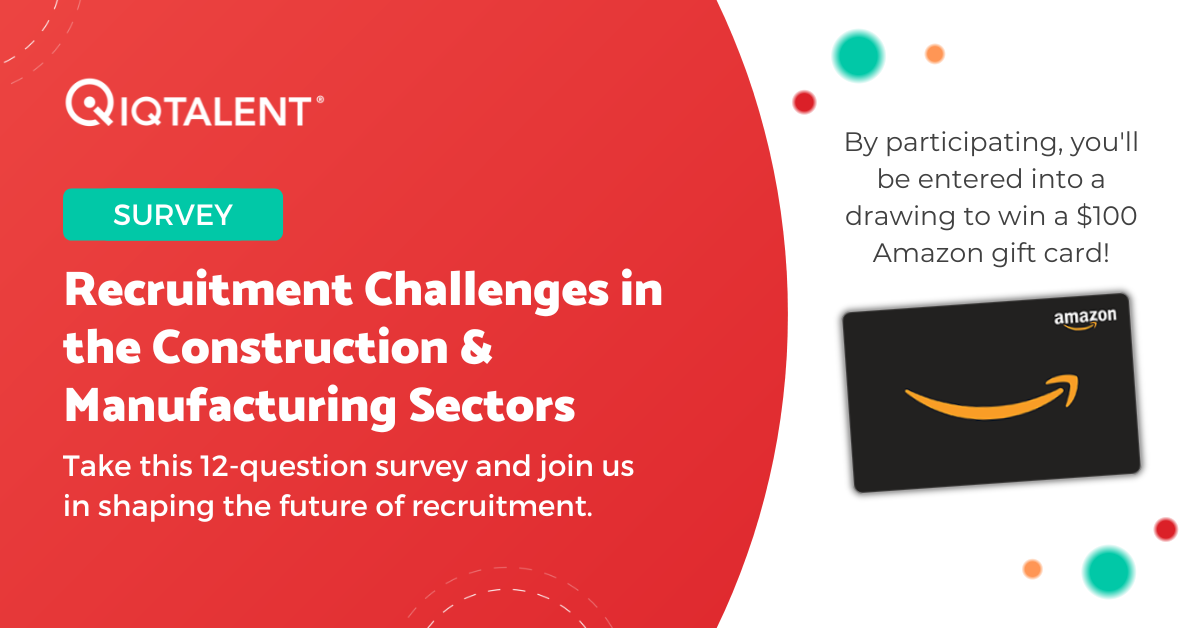 Discover how @IQTalent transformed talent acquisition for a major U.S. construction firm. Read their latest case study and see how strategic sourcing and analytics can elevate your talent pipeline:

Click to Tweet
A Legacy in Need of Fresh Talent
Starting as a humble local excavator in 1906, the construction firm has grown into a major industry player, handling large-scale projects from general contracting to civil construction. Despite its storied legacy, the company grappled with the challenge of keeping its talent pipeline robust.
It needed more than just active job seekers; it needed the best of the best—the kind of talent that is often content in their current roles and not actively seeking new opportunities. This required a shift in strategy, one that focused on engaging passive candidates who may not be actively searching but are open to new opportunities.
IQTalent's Pledge: Beyond Filling Vacancies
Recognizing the unique needs of this construction giant, IQTalent committed to providing an average of 120 hours of weekly sourcing support, focusing not just on filling vacancies but on sourcing top-tier talent. Because when a company's projects impact the lives of thousands, standard just isn't enough. We understood that quality hires were key to maintaining their industry-leading status and committed ourselves to delivering beyond expectations.
A Comprehensive Approach to Sourcing
To meet this ambitious goal, IQTalent deployed a comprehensive, multi-pronged strategy. Our team delved deep into analytics, pulled valuable insights, and used these findings to enhance our sourcing function. We ensured we were sourcing candidates with the right blend of skills, experience, and culture fit—candidates who would add value to the company from day one. This wasn't just about ticking boxes on a job description but about understanding the company's culture and values and finding candidates who would thrive within that environment.
When traditional recruitment methods no longer cut it, innovation steps in. Find out how @IQTalent helped a construction giant save costs and hire top-tier talent. Check out their case study:

Click to Tweet
High-Caliber Results and Significant Savings
The results of our tireless efforts were evident. The quality of the company's talent pool saw a significant improvement, with over 40 hires credited to IQTalent's refined sourcing strategy. But the benefits didn't stop there. By focusing on sourcing passive candidates using on-demand talent consultants, the company also realized substantial savings compared to the costs associated with traditional recruiters. This not only helped them get the talent they needed but also allowed them to allocate resources more effectively across other important areas.
An Ongoing Partnership
The engagement between IQTalent and the construction company extended beyond a one-time project. Our successful partnership became an integral part of the company's ongoing recruitment strategy, cementing our position as a reliable and adaptable partner. Our collaborative approach and commitment to their success have fostered a strong relationship that continues to deliver value long after the initial engagement.
The Power of Strategic Talent Sourcing
The experience of this U.S. construction giant underscores the importance of a proactive and strategic approach to talent sourcing. It demonstrates how companies can leverage the expertise and dedication of partners like IQTalent to build a stronger, more dynamic workforce without the exorbitant costs typically tied to traditional recruitment. In today's fast-paced business environment, a flexible and innovative talent acquisition strategy is not just a nice to have; it's essential for staying competitive.
This success story is a testament to IQTalent's commitment to quality, flexibility, and diversity. It highlights our ability to deliver high-caliber results and our unwavering focus on our client's needs. It's a story we're proud to have been a part of. More than just a service provider, we see ourselves as an extension of our client's team, working hand-in-hand to achieve their goals.
Discover how IQTalent can help your company elevate its talent pipeline. Connect with us today, and let's create your success story. With IQTalent, you're not just hiring a partner; you're investing in a proven, results-driven approach to talent acquisition.