This article on sourcing strategies for attracting passive candidates was originally published in November 2020. All relevant material and statistics have been updated as of July 2021.
The job market, as we know it, has changed as the world continues to adjust to the disruptions we've faced over the last year. College graduates are finding themselves entering into a turbulent job market, with the unemployment rate skyrocketing to 14.8% in April of 2020. While this number is thankfully improving as vaccination efforts continue and businesses reopen, the job market still remains considerably different from what we were used to before COVID-19. Some job seekers were forced to make career changes to make ends meet and are now open to new opportunities, hoping to find a sense of normalcy in the months to come. Some candidates were already seeking out new positions at the top of 2020 but decided to put their job search on hold while things got a little… well, crazy.
As hiring efforts ramp up, recruiters now have a mixed bag of candidates. So, how do you plan on recruiting passive candidates in today's job market? This hiring market requires creative sourcing strategies. Try these 6 unique options from our experts:
1. Spice up Your Job Descriptions
A well-written JD will make or break whether passive candidates convert on your job site. When a passive candidate comes across your job opportunity, no matter where they found it, they'll be more likely to fill out the application if the description really speaks to them.
Recruiters are having to find new ways to source #candidates. One tip that @IQTalent has is to focus your efforts on crafting a compelling job description. See more tips for attracting #passivetalent on IQTalent Partner's latest blog:

Click to Tweet
To nail your job descriptions, follow these best practices:
Avoid the third person. "The ideal candidate" sounds dry—incorporate language with "you" and "we" in it instead.

Demonstrate a commitment to diversity within the description.

How your company talks about diversity and inclusion will significantly impact whether your job posts attract a diverse pool of candidates. Postings that include even a basic equal opportunity employer statement will fill

6% more quickly

than those that don't.
Use growth-focused language. Rather than terms like "expert" or "natural talent," use language like "persevere," "forward thinker," and "opportunity to grow" to show that your company values growth within positions.
Choose precise language over vague action words to keep your descriptions succinct and straightforward.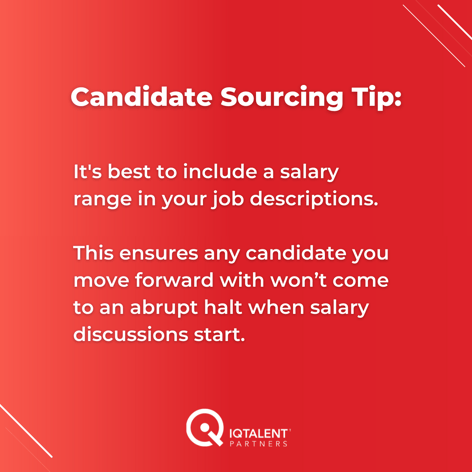 2. Lean on Your Current Team
Employees are often excited to help source candidates to join their team! And, who knows who would fit in better with your culture than those already experiencing it? A 2020 survey found 45% of employees sourced from employee referrals stay for longer than 4 years, while only 25% of employees sourced through job boards stick around for over 2 years.
Keep your team in the know about current and upcoming openings along with the job description you've already crafted. Make sure they send talent to your inbox with a name-drop so you know who can vouch for them.
Even better — incentivize your referrals! Offer your employees referral bonuses for new hires (after meeting a probationary period) to keep up the motivation to bring in great talent.
3. Don't Rule Out Fresh Hires
A candidate who recently started a new job elsewhere may strike you as the most "passive" candidate out there — likely with no interest in making another jump, but you could be wrong. The timing of your outreach can sometimes work in your favor. Consider this — their professional life is already up in the air, and their resume and requirements are up to date.
There's a chance their new job might not have panned out exactly how they'd hoped or that the company wasn't what it presented itself to be. You could help mitigate their new job regret. Besides, 31% of employees have reported quitting a job within the first 6 months. Just because a potential candidate has recently accepted a new position doesn't mean you shouldn't start a conversation with them and feel out their circumstance.
4. Perfect Your Outreach
Sourcing a list of great candidates doesn't mean much unless they engage with you. You need to perfect your outreach to get the attention of someone who isn't necessarily seeking new opportunities.
Free Content: IQTalent Partners' Outreach Email Templates We Swear By
Knowing your audience is crucial — that generic message you've sent to 20 other candidates won't cut it. And, knowing the unique values of the industry will help you by leaps and bounds. For example, while 78% of sales professionals say they would accept less money to work at a company selling something compelling, 66% of healthcare professionals are likely to accept less money to work at a company with a great culture. Leverage what makes the industry unique and lead with this in your outreach! Your goal is to give them just enough information to pique their interest and respond, but you want to be careful about overloading them with too many details.
5. Master Your Social Ads
Recruiters know social ads are an excellent way to target the right audience. But, there is a guessing game of whether your tactics will be enough to stop top talent in their tracks. Here's our take on social platforms:
Facebook
Don't underestimate Facebook when it comes to sourcing candidates! Compared to Linkedin and job boards, sourcing candidates on Facebook is often cheaper and faster. And, you're more likely to find talent that weren't necessarily in the thick of their job hunt. Besides the standard targeted ads, you can:
See who already follows your company page. They already know what your company is all about!
Manually source candidates with creative search queries.
Facebook hosts job postings. Create one and share it with your network of followers and ask others to share accordingly.
Broaden your idea of your target candidate by boosting your job posts to a broader audience.
Share your job posts on relevant Facebook groups and communities.
Bonus Material: Make an informed decision about how to allocate your recruiting budget with our Guide to Candidate Sourcing Tools.
Twitter
Hashtags, images, and a clear call to action can create a great deal of Twitter reach. Don't worry about tweeting about the same opening several times — tweets are short and sweet, and there's room for a lot of testing to figure out what will work best for your target audience. Once you find a formula that generates some reach, try out a paid promotion to boost it even further.
LinkedIn
LinkedIn is still an excellent tool that nearly all recruiters leverage to find active or passive talent. But, recruiting on LinkedIn needs to be done right. We've all received generic InMail — make yours casual to stand out from the rest. Do your research and let the candidates know why you're reaching out to them specifically. Show them that you took the time to see where they went to school, what they minored in, a common geographic area you're both worked in, or something similar. If done well, your InMail strategies can generate a higher open rate compared to traditional cold emails.
Today's #hiringmarket requires unique and creative strategies for #sourcing top talent. Gain a leg on the competition with these 6 tips for recruiting #passivecandidates on @IQTalent's latest blog:

Click to Tweet
6. Lean on a Talent Exchange Marketplace
While active candidates spend their time on job boards, recruiting passive candidates can be done seamlessly on talent exchange marketplaces. These platforms remove the hurdles of finding passive candidates by giving in-house recruiters access to lists of relevant passive candidates' background and contact information. All you have to do is reach out and take the next step with your unique outreach strategy.
Unlike typical job postings that rely on active candidates, our talent exchange marketplace, IQTalent Xchange, matches companies with passive candidates, searching over 300 million working professionals. Rather than scouring the internet for hidden, passive talent, you simply provide a job description, and we provide an expertly vetted and ranked list of professionals matching your needs. Their contact information is delivered to you so you can reach out in the strategic way that makes the most sense for you. Reach out and get your first research project started.