Bellevue TN—Twelve members of IQTalent Partners' Nashville Executive Research Division (NERD) spent the morning of Saturday November 7th working in Bellevue's edible learning lab (BELL).
Despite the gray weather, most of the team arrived at 9 am and were greeted by members of the board and given a brief lesson on the garden's origin. Founded in 2009, the BELL garden was inspired by a similar project in Berkeley, California—seeking to educate and engage the community for the larger goal of healthy living.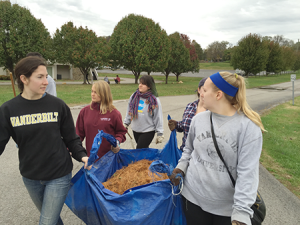 The afternoon's activities were directed by Nancy Murphy, the garden manager and the nonprofit's only full time employee. NERDs participated in a range of activities including: raking leaves and pine needles, weeding surrounding the kale and strawberry plants, and even had a chance to feed worms and seeds to the gaggle of hens that are kept on site at the garden.
"I just like any outdoor physical labor where you can see the evidence of your work—the before and after" Ben Flynn of the afternoon's activities.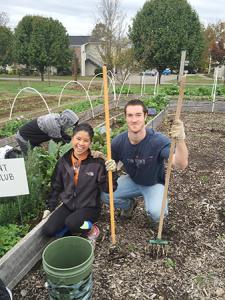 Although Chase Garnham and Mallie Froehlich initially cited feeding the chickens as their favorite parts of the event, Froehlich concluded that the morning was a great team building exercise.
"I just liked being outside" said Garnham of the event.
Although everyone involved expressed satisfaction with the event, some noted the conspicuous gender disparity which mimics the nationwide trend in volunteerism. Women outnumbered men three to one.
The BELL garden event was the first volunteering engagement of the newly formed "NERDnitiative"—an internal committee founded to plan and coordinate volunteer events that will allow Nashville employees of IQTalent partners to engage with the local community. In the future the NERDnitiative hopes to establish a regular engagement that would involve aiding underserved communities and individuals through resume reviews and career coaching, while continuing a diversity of events that would reach various corners of the Nashville community.