This article on the benefits of using on-demand recruiting services was originally published in February of 2021. All relevant copy and statistics have been updated as of August 2021.
Modern advancements in technology have enabled organizations to meet the immediate needs of their market and the demands of consumers. As organizations have embraced the use of digital tools in their business functions, this style of business, known widely as on-demand, has allowed companies to provide products and services faster than ever before. The On-Demand mentality has made its way into the hiring industry by enabling companies to hire at scale during times of need. In today's business environment, recruiters are empowered through on-demand recruiting to meet the immediate staffing needs of your industry.
@IQTalent breaks down #OnDemandRecruiting in their latest blog. See how this #strategy can help you recruit at scale:

Click to Tweet
What is On-Demand Recruiting?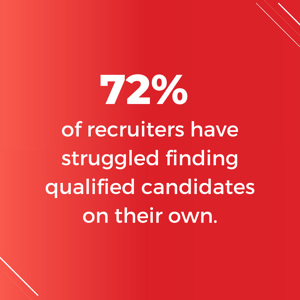 On-Demand recruiting is a recruiting service that organizations provide on an as-needed basis or project basis. When companies face large spikes in hiring volumes or are facing short-staffed issues, on-demand hiring enables them to fulfill their hiring goals without sacrificing productivity. On-demand hiring is a highly flexible service, allowing for customization according to your needs. Recruiters for on-demand recruitment services act as an extension of your existing Talent Acquisition function, creating a more adaptable hiring process.
How Can On-Demand Recruiting Support Your Hiring Needs During Recovery?
On-demand recruiting is an excellent strategy for organizations to use when looking to hire during times of recovery. Some benefits that businesses see when using an on-demand recruiting approach include:
1. The ability to scale up or down. One of the greatest benefits of using an on-demand recruiting strategy is the ability to scale up or down according to your immediate needs. If your project or staffing needs require more than one recruiter on-demand, you can easily adjust your approach. Since on-demand recruiting is an extension of your internal recruitment strategy, it acts as a supplemental resource to your recruitment department.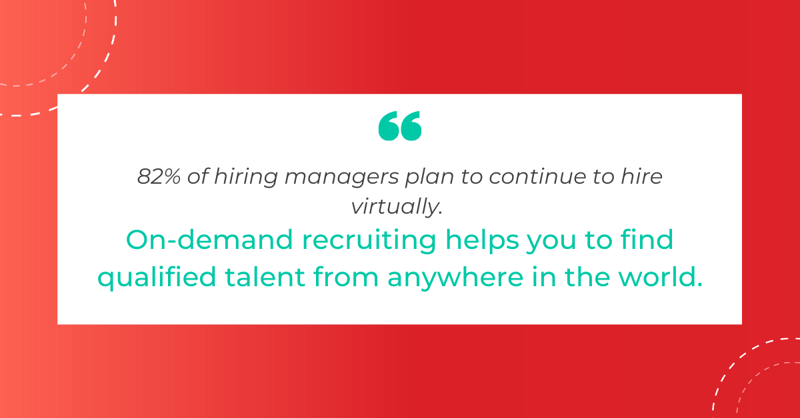 2. Added flexibility in costs. In addition to scaling your recruitment approaches, on-demand recruiting allows you to adjust the costs you incur. In a typical recruitment strategy, hiring managers need to ensure compliance with state and federal labor laws when hiring a full-time employee. On-demand recruiting allows more flexibility. On-demand recruiters join the team on an as-needed basis, allowing hiring managers to retain their on-demand workforce as long as necessary or let them go when demand is decreased.
Could your organization benefit from using #OnDemandRecruiting? @IQTalent breaks down how you can utilize this strategy to better your recruitment efforts:

Click to Tweet
3. Enhanced resilience during a disruption. On-demand recruiting supports the exact needs of your organization when they arise. In markets that face unpredicted obstacles, on-demand recruiting provides a level of comfort in knowing you can adjust your recruiting efforts as needed. In highly competitive hiring industries, on-demand recruiting can be used to: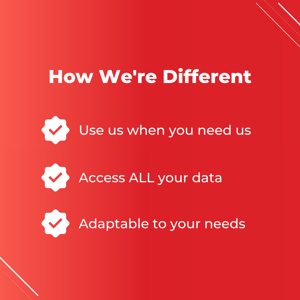 Hire for one specific role
Keep candidate searches confidential
Seek recruitment and candidate sourcing support
Support your in-house recruiting efforts on a consistent basis
How Can IQTP Help?
At IQTP, we believe that the cornerstone of your recruitment and hiring strategy begins with high-quality candidate sourcing. With our candidate sourcing and research tools, users enjoy the ability to:
Hire for seasonal positions before the time comes
Leverage your in-house sourcing team when you need to scale fast
Collaborate on ideal candidate profiles and experience
IQTalent Partners works as an extension of your team. We provide world-class research capabilities paired with unparalleled expertise to assist you with accomplishing your goals, and our team of experts supports your recruitment and research efforts regardless of need. IQTP has the ability to help you hire ahead of predicted labor needs or scale back your recruitment efforts when demand slows.
To learn more about how IQTalent Partners can help your in-house recruitment efforts, or to see the other benefits you'll enjoy from partnering with us, reach out to one of our experts to schedule your free consultation today.